Kath and Pete Douglas - in New Zealand and Europe
Welcome to the photo gallery website of Kath and Pete Douglas.
Update: We have returned to New Zealand after 17 years in Europe and have started our new life back in our home country.

New challenges, new employment, finding a home, reconnecting with family and friends. Initial base is the North Island, in the Tauranga area.

We came over to Milton Keynes, United Kingdom in 2000 to work and travel around Europe.

This site is to show our Photos and some of our experiences to all who may be interested. To all our friends in NZ or the UK - Hi! and why not send a photo or an email on what you are up to - we will put Photos up on the site so all can see.

Kath and Pete Douglas came from Christchurch in the South Island of New Zealand / Aotearoa (meaning 'Land of the Long White Cloud') and were living in Milton Keynes, UK. Christchurch lies on the east coast between the sandy beaches of Sumner and Brighton, the bays and bush clad valleys of Banks Peninsular and the river-braided patchwork of the Canterbury Plains, which stretch westwards towards the tallest mountains in New Zealand, the Southern Alps. Lord of the Rings country!

Milton Keynes where we lived is a "New" town about 60 miles north of London just off the M1 motorway. Milton Keynes is the name of one of the villages that were in the original designated area of the new "city" of Milton Keynes. This had the name Mideltone (middletown) in the Domesday Book and by 1422 the name of Kaynes had been added after the feudal family name Cahaignes.

Kath Douglas worked for a company based in London that imports and sells Office Equipment - Shredders, Laminators, Pens, Files etc and was the Service and Quality Controller.
She then was with a company based in MK that installs, supplies, configures Point of Sale, Tills, Wireless equipment for the Hospitality Industry and was part of the Finance team.

Pete Douglas was with a Computer company that refurbishes and re-sells ex-lease IT Equipment, processes the same for Leasing companies and re-cycles that which is no longer of any use - for 12 years!
He was then at the same company as Kath but in the Technical Services section supervising some of that configuring. Before returning to NZ he was working at a company that has has large depot processing used cars near MK, working in the division that supplies new Nissans to the dealers and leaseplan then in the Inbound Team doing the initial vehicle inspections as they arrived.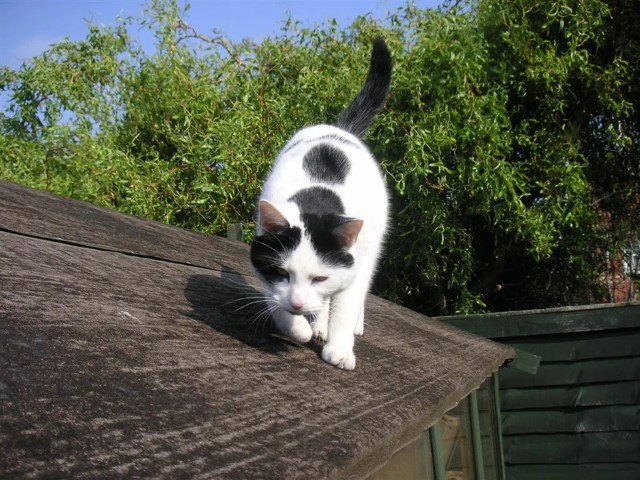 A home has to have a Cat and Marshall Douglas has taken over. He was a Cat's Protection puss who didn't have a home but as far he was concerned we were his slaves and are there to do his bidding. White with Black Spots and an attitude, he had taken over the neighbourhood, beating up the other cats and being a right bully.
But still he was a character and did show affection (or is that a "feed me" message) See photos in his section.
Marshall had also travelled to New Zealand and had had to put up with a flight lasting over 33 hours then 10 days Quarantine. Unfortunately he developed a lump and was not able to make it to our new home. He would have loved the freedom and we miss him still.

We waited a couple of years and got Ferne from the SPCA, just 8 weeks old and full of beans. She destroyed a maidenhair fern in her first week so that's what we called her. She's very cuddly and full of mischief, loves to sleep on us, the bed, carpet and when we have the fire going she's spread out in front.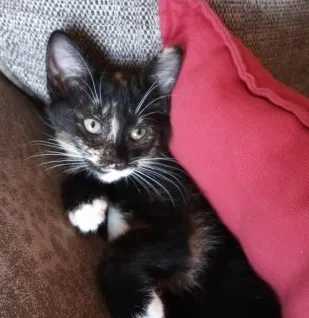 https://www.kathandpete.kiwi/Galleries/Family/Ferne-the-cat/
12
---